Iotaflow pleased to introduce our new product U1000MKII-FM is an ultrasonic permanent/fixed clamp-on flow metering solution for measuring flow rate and total flow with a volume pulse output and optional Modbus or 4-20mA flow proportional output, which can be used as a stand alone meter or as part of an integral management system. Simple to install – connect power and enter the pipe inside diameter, adjust the sensors and clamp-on the pipe -no specialist skills or tools required! A cost effective alternative to traditional in-line meter installation, plus dry servicing, providing minimum downtime and maximum availability! Compact, rugged and reliable, the U1000MKII-FM has been designed to provide sustained performance in industrial environments.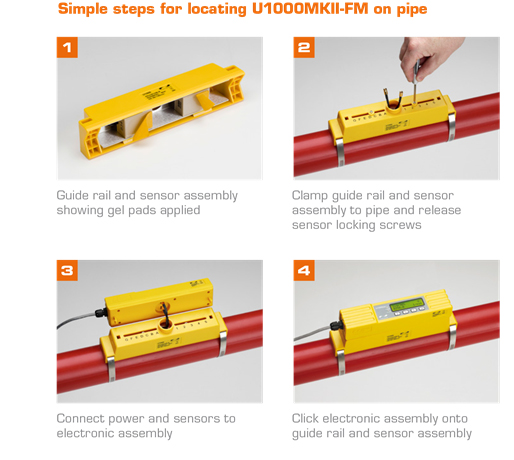 Specifications
Measurement Technique: Ultrasonic transit time method for flow measurement.
Turn Down Ratio: 200:1
Accuracy: +/- 1% – 3% of flow reading for >0.3m/s (1 ft/s).
Flow Velocity Range: 0.1m/s – 10m/s (0.3 ft/s – 32 ft/s).
Pipe Range: Available in 2 options: 22mm to 115mm and 125mm to 180mm OD.
Note Pipe size is dependent on pipe material and internal diameter.
Water Temp Range: 0°C – 85°C (32°F – 185°F).
Pulse Output: Pulse or Frequency.
Pulse for Volume flow and Alarms.
Frequency for flow rate.
The pulse output can be configured as a loss of signal or low flow alarm.
4-20mA Output: Optional 4-20mA flow proportional output
Modbus Communication: Optional Modbus RTU slave, RS485 serial link hardware layer.
Modbus connection cable is 1m.
External Power Supply: 12V – 24V +/- 10% AC/DC at 7 watts per unit.
Optional plug in 12V power supply.
Electronics Enclosure: IP54.
Input/Output Cable: 5m x 6 core for power in, 4-20mA and pulse out.
Dimensions: 250mm x 48mm x 90mm (10″ x 2″ x 4″) (electronics + guide rail)
Industries:
Building Services
Energy Management
Water Treatment
Chemical
Pharmaceutical
Petrochemical
Food
Recommended for:
Hot water < 85°C (185°F)
Chilled water
Potable water
Demineralised water
Chilled Water with Glycol
Application/use:
Hot water metering and flow measurement
Flow measurement for heat metering
Chilled water metering and flow measurement
Flow measurement for chilled water energy metering
Potable water metering and flow measurement
Process water metering and flow measurement
Ultrapure water measurement
How does it work?
The Ultraflo is a transit time ultrasonic flow meter designed to work with clamp-on transducers, to provide accurate measurement of liquid flowing within a closed pipe, without the need for any mechanical parts to be inserted through the pipe wall or to protrude into the flow system. It takes just a few minutes to install and there is no need to shut down flow or drain the system!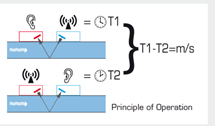 When ultrasound is transmitted between the transducers, the speed at which the sound travels through the liquid is accelerated slightly by the velocity of the liquid through the pipe. When ultrasound is transmitted in the opposite direction, the flow of the liquid causes the transmitted sound to decelerate. The subsequent time difference is directly proportional to the flow velocity in the pipe. Having measured the flow velocity and knowing the pipe cross-sectional area, the volumetric flow can be easily calculated.